Skip to Main Content
It looks like you're using Internet Explorer 11 or older. This website works best with modern browsers such as the latest versions of Chrome, Firefox, Safari, and Edge. If you continue with this browser, you may see unexpected results.
Credo Reference
Credo Reference is a large electronic database containing over 3 million articles and chapters from over 800 books, including many reference books in wide array of disciplines. Classical studies is well represented.. Go to the Library's database page for the link.
Here are a few titles: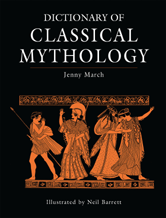 Jenny March's acclaimed Dictionary of Classical Mythology, first published in 1998 but long out of print, has been extensively revised and expanded including a completely new set of beautiful line-drawing illustrations for this Oxbow edition. It is a comprehensive A -- Z guide to Greek and Roman mythology. All major myths, legends and fables are here, including gods and goddesses, heroes and villains, dangerous women, legendary creatures and monsters.
Author(s): Jennifer R. March
Edition: 2nd
Articles: 1,548
Images: 185
People: 65
© Jennifer R. March 2014, illustrations © Neil Barrett 2014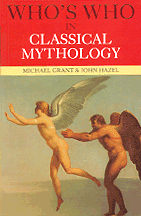 Contains extensive entries, including detailed entries on all the major gods and heroes, from Athena and Zeus to Achilles, Odysseus and Tarquin and biographical listings of all the key authors, such as Homer.
Author(s): Michael Grant, John Hazel
Edition: 3rd
Articles: 1,430
Images: 1
People: 1,144

Routledge
Who's Who in Classical Mythology, © 1973, 1993, 2002 by Michael Grant Publications and John Hazel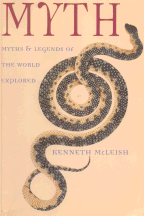 This work retells the world's major myths and legends, and gives a clear reference guide to who was who, where was where and what was what. In addition to A-Z entries of myths, motifs, locations and characters, there are generic essays and entries about the various traditions, organized by location. The essays discuss the kinds of myth each area has produced, and their relationship to local geography, culture and religions. The guide explores the major myth traditions of every continent, from the Americas and Middle East to Europe and Africa. The origins and historical significance of each legend are examined and recurring motifs are traced through the ages and around the world.
Author(s): Kenneth McLeish
Edition: 1st
Articles: 1,461
Images: 1

Bloomsbury
Copyright © 1996 by Kenneth McLeish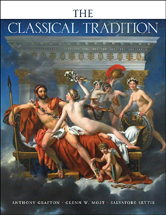 Designed for scholars, students, and the general reader, this compilation of essays shows how Classical civilizations have shaped human endeavors from art to government, mathematics to medicine, drama to urban planning, legal theory to popular culture.
Editor(s): Anthony Grafton , Glenn W. Most , Salvatore Settis
Edition: 1st
Articles: 588
People: 77

Harvard University Press
© 2010 Harvard University Press (cloth) © 2013 Harvard University Press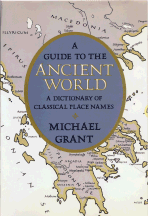 This useful companion to classical history reveals the ancient world - from Scotland to India and from Spain to the Black Sea - through the numerous sites of its history and legends.
Author(s): Michael Grant
Edition: 1st
Articles: 1,828
Images: 17

The H.W. Wilson Company
Guide to the Ancient World, © Michael Grant 1986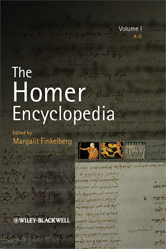 Represents the first comprehensive reference work encompassing the world and artistry of Homer, the historical and cultural background of the Iliad and the Odyssey, Homeric scholarship, and Homeric reception from antiquity to the present.
Editor(s): Margalit Finkelberg
Edition: 1st
Articles: 1,460
Images: 48
People: 136

Wiley
© 2011 Blackwell Publishing Ltd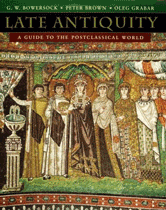 This richly informative and comprehensive guide to the world of late antiquity offers the latest scholarship to the researcher along with sheer reading pleasure to the browser.
Editor(s): G. W. Bowersock , Peter Robert Lamont Brown , Oleg Grabar
Edition: 1st
Articles: 529
Images: 1
People: 46

Harvard University Press
Copyright © 1999 by the President and Fellows of Harvard College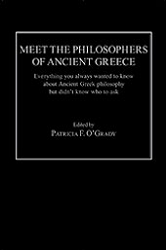 Everything you always wanted to know about Ancient Greek philosophy but didn't know who to ask
Editor(s): Patricia F. O'Grady
Edition: 1st
Articles: 87
Images: 51
People: 2

Ashgate Publishing
© Patricia F. O'Grady 2005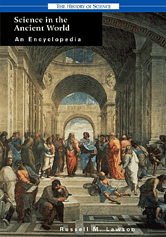 Catalogs the achievements and legacy of more than four millennia of scientific thought in the ancient world of the Mediterranean and the Near East, providing a complete overview of the physical, chemical, life, medical, and social sciences of the classical world.
Author(s): Russell M. Lawson
Edition: 1st
Articles: 198
Images: 52
People: 153

ABC-CLIO
© 2004 by Russell M. Lawson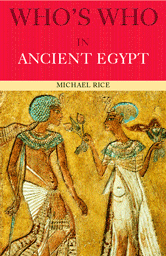 The whole arena of Egyptian life is expressed in this work. Not only are there nearly a thousand biographies, there's also a chapter on "Encountering the Ancient Egyptians", sections on kingship and on religion, a chronology, and explanation of key terms such as calendars and pyramid texts.
Author(s): Michael Rice
Edition: 1st
Articles: 1,049
Images: 1
People: 915

Routledge
© 1999, 2002 Michael Rice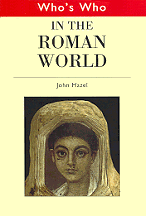 A wide-ranging biographical survey of one of the greatest civilizations in history. The figures represented here come from all walks of Roman life and include some of the most famous - not to mention infamous - figures as well as hitherto little-known, but no less fascinating, characters.
Author(s): John Hazel
Edition: 1st
Articles: 800
Images: 1
People: 683

Routledge
Who's Who in the Roman World, © John Hazel 2001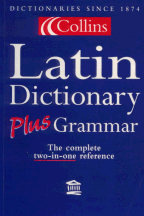 A comprehensive Latin-English dictionary, containing translations of words and phrases. The dictionary provides a comprehensive treatment of the vocabulary of texts read in school and university.
Author(s): Mary Wade
Edition: 1st
Articles: 36,194
Images: 1

Collins
Collins Latin Dictionary, © HarperCollins Publishers, 1997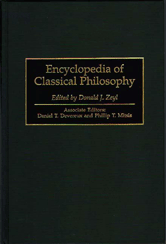 The only encyclopedia in English specific to the field of Classical Philosophy, this work presents 270 articles on major and minor figures and on topics of importance to the philosophy of Greek and Roman antiquity. The articles present not only succinct historical accounts of their subject matter, but they introduce readers to issues of interpretation and debate in the contemporary scholarly study of the philosophy of the Classical period. Scholars, students, and interested lay persons will find this volume useful in gaining a comprehensive view of the field.
Editor(s): Donald J. Zeyl , Daniel Devereux , Phillip Mitsis
Edition: 1st
Articles: 319
Images: 10
People: 18

Greenwood
Copyright © 1997 by Donald J. Zeyl