Skip to Main Content
It looks like you're using Internet Explorer 11 or older. This website works best with modern browsers such as the latest versions of Chrome, Firefox, Safari, and Edge. If you continue with this browser, you may see unexpected results.
Databases
Salem History Decades

Has a good crime/criminal section if you go to the Browse tab. This database examines the iconic personalities and moments that defined each decade from the 1930s to the 1990s. The database cover events, movements, people, and trends in the U.S. Full text searching is available as well as browsing by category, decade, geographic location, and topic.
Boolean Operators
Boolean Operators help to focus your search by linking your search terms. There are three words that are used as Boolean connectors, AND, OR and NOT.
The diagrams on this page help to explain further how Boolean Operators work.
Boolean AND
AND locates records containing both terms. For example, a subject search on "diet AND cancer" locates records that contain information on both diet and cancer as indicated by the overlapping yellow area below.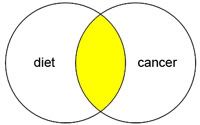 Boolean OR
OR locates records matching any or all of the specified terms. For example, a search on "diet OR nutrition" locates records that contain information only about diet, records only about nutrition, and records that contain information on both diet and nutrition. OR expands your search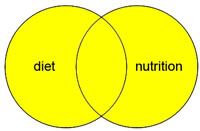 Boolean NOT
NOT locates records containing the first term but NOT the second. For example, a search on "cancer NOT diet" locates records only about cancer, and excludes any records about diet that also contain information about cancer.